Disclaimer: Pure Matrimony will not be responsible if the subscription cancellation procedure is not followed appropriately. Hence request you to read through the below instructions and follow it without deviation.
Procedure to cancel subscription:

In order to cancel your subscription, you need to first cancel your subscription at Pure Matrimony Portal and then cancel your Pure Matrimony subscription at Google Pay.
Please follow the procedure mentioned in the below link to cancel subscription at Pure Matrimony Portal.
How do I cancel or suspend my subscription through App?
If you subscribed via one of our Android mobile apps, you must cancel your subscription through the Play Store.
In order to cancel your subscription, please follow the following steps:
1. Launch the Play Store app on your Android device
2. Tap on the Menu button in the top left of the screen
3. Tap on My Subscriptions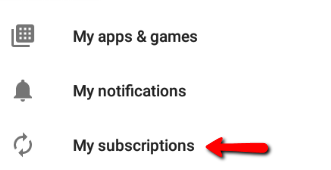 4. Tap Manage for the subscription you want to cancel
5. Tap Cancel Subscription
6. Tap Cancel Subscription again
Alternatively, you cancel your Google Play subscription online without an Android device by following these steps:
Log in to Google
Find the subscription you want to cancel.
Click Cancel Subscription.
Important: Uninstalling an app will not automatically stop your subscription. You must cancel your subscription to end your subscription. If you uninstall the app without cancelling your subscription, you will still be charged. If an app for which you've purchased a subscription is removed from Google Play, your future subscription will be automatically cancelled, but past subscriptions will not be refunded.
Payments made through Google Pay Account and Apple Pay account need to be cancelled through the respective services 24-48 hours prior to next auto-renewal date to due to differences in time zones to the end of the current subscription period. Closing your account on Pure Matrimony DOES NOT cancel your payments on Apple Pay or Google Pay. If your membership is not cancelled before then, we reserve the right NOT to refund you on payments made to us due to your mistake.
What happens after you cancel
When you cancel a subscription you'll still be able to use your subscription for the time you've already paid.
For example, if you buy a one-year subscription on Jan. 1 for £60 and decide to cancel your subscription on July 1:
You'll have access to the subscription until Dec. 31.
You won't be charged another yearly subscription following Jan.