HOW DO I CANCEL MY SUBSCRIPTION?
It is the member's responsibility to cancel any payments with Pure Matrimony.
You can cancel your account through the 'My Account' menu, by pressing the
'Cancel My Payments'. All payments will automatically stop and you can use
your account until your membership runs out. Please make sure to read the
instructions carefully.
Please note that if you made payment via a credit or debit card or by PayPal, you need not take any further action.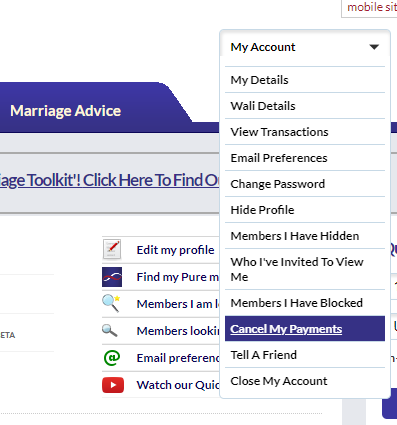 If however, you notice that payments are continuing to be taken from your account after cancellation, please contact customer services by raising a SUPPORT REQUEST
CAN I SUSPEND MY SUBSCRIPTION FOR A WHILE?
Unfortunately, this is not possible at present. You can choose to close your account if you wish, but you will have to re-subscribe to reactivate it, and you may lose out on any introductory discounts you may have received.